The Ferrari 812 Competizione is the CSR2 Ferrari Duality Evo Cup Prize Car of Season 153. The Ferrari 812 Competizione also is the CSR2 Milestone Car of Season 183.
Obviously, the Ferrari 812 Competizione is one of the faster cars in Tier 5.
Ferrari 812 Competizione SPecifications
Ferrari has a long-standing tradition of crafting some of the most breathtaking and high-performance sports cars in the world. The Ferrari 812 Competizione takes this legacy to new heights, pushing boundaries and redefining what is possible in a road-legal supercar. With its powerful V12 engine, aerodynamic prowess, and exclusive features, the 812 Competizione represents the epitome of Ferrari's engineering excellence. In this article, we delve into the standout features, awe-inspiring performance, and the unmatched allure of the Ferrari 812 Competizione.
Design: The Ferrari 812 Competizione showcases a design that is both elegant and aggressive. Every curve and line has been meticulously sculpted to optimize aerodynamics while accentuating the car's muscular presence. The sleek and elongated headlights, distinctive grille, and pronounced air intakes contribute to its imposing front end. From the side, the 812 Competizione's flowing lines and flared wheel arches evoke a sense of dynamic motion even when stationary. At the rear, the active rear spoiler and quad-exhaust setup further enhance the car's performance-oriented character. The Ferrari 812 Competizione commands attention and leaves a lasting impression with its breathtaking design.
Powerful Performance: Beneath the 812 Competizione's sculpted hood lies a naturally aspirated 6.5-liter V12 engine that produces a staggering 830 horsepower, making it the most powerful V12 Ferrari has ever produced. The engine's immense power is harnessed through a lightning-fast seven-speed dual-clutch transmission, providing seamless gear changes and exhilarating acceleration. The 812 Competizione sprints from 0 to 60 mph in just 2.85 seconds and boasts a top speed of over 211 mph. This remarkable performance is achieved through a combination of advanced engineering, cutting-edge technology, and Ferrari's unrivaled expertise.
Advanced Aerodynamics: Ferrari engineers have paid meticulous attention to aerodynamics in the development of the 812 Competizione. The car's bodywork has been optimized to minimize drag and generate maximum downforce, ensuring exceptional stability and agility at high speeds. The innovative "Aerodinamica Lamborghini Attiva" (ALA) system, borrowed from Ferrari's track-focused models, actively adjusts airflow to enhance both performance and efficiency. The 812 Competizione's aerodynamic enhancements are not only visually striking but also deliver tangible benefits in terms of handling and performance.
Exclusivity and Craftsmanship: As with any limited-production Ferrari, exclusivity is a defining characteristic of the 812 Competizione. With only a select number of units being produced, owners will join an elite group of Ferrari enthusiasts who have access to this remarkable machine. Inside the cabin, meticulous craftsmanship and attention to detail create an ambiance of luxury and exclusivity. Fine materials, such as premium leather and carbon fiber accents, are meticulously handcrafted to provide a sense of refinement and sophistication. The 812 Competizione is a testament to Ferrari's unwavering commitment to creating truly exceptional and exclusive automobiles.
Cutting-Edge Technology: The Ferrari 812 Competizione incorporates the latest technological advancements to deliver a truly immersive and connected driving experience. The cockpit features a driver-centric layout, with controls and essential information easily accessible. Advanced driver-assistance systems, including adaptive cruise control and lane-keeping assist, enhance safety and provide additional peace of mind. The infotainment system offers seamless connectivity, allowing drivers to integrate their smartphones and access a range of features and functions. The integration of technology ensures that the 812 Competizione is not only a thrilling supercar but also a comfortable and modern driving environment.
Dynamic Handling: The Ferrari 812 Competizione is not solely focused on straight-line speed; it also delivers exceptional handling and agility. The car's chassis and suspension have been meticulously engineered to provide optimal balance and control. State-of-the-art technologies, such as Ferrari's Side Slip Control system and the latest generation of electronic stability control, work in harmony to enhance handling and deliver precise feedback to the driver. Whether carving through winding roads or attacking a racetrack, the 812 Competizione's dynamic handling characteristics elevate the driving experience to new heights.
Conclusion: The Ferrari 812 Competizione represents the pinnacle of Ferrari's engineering excellence and performance prowess. With its striking design, awe-inspiring performance, and meticulous attention to detail, it embodies the spirit of Ferrari's legendary sports cars. The exclusivity and craftsmanship of the 812 Competizione make it a true collector's item, reserved for a fortunate few who appreciate the pinnacle of automotive excellence. As a testament to Ferrari's enduring legacy and unwavering commitment to pushing the boundaries of automotive engineering, the 812 Competizione is a remarkable achievement that continues to captivate the hearts of enthusiasts worldwide.
More on the Ferrari 812 Competizione
The CSR2 Ferrari 812 Competizione
The 5 purple star Ferrari can fit 135 Fusion parts. So far nothing special. The 812 should run 6.941s. To sum up, the 812 Competizione is one of the faster cars in Tier 5.
Ferrari 812 Competizione tune and shift pattern
Ferrari 812 Competizione Season 183
| | |
| --- | --- |
| Ferrari 812 Competizione | |
| Tier | 5 |
| NOS | 188 / 4.0 |
| Transmission | 2.00 |
| Tires | 52 / 48 |
| Wining shift pattern | Start at 9.400rpm (needle drop), 3.000rpm 2nd and NOS, rest deep good or early perfect shifts |
| Time | 6.990 |
| | |
| --- | --- |
| Ferrari 812 Competizione | |
| Tier | 5 |
| NOS | 188 / 4.0 |
| Transmission | 2.00 |
| Tires | 52 / 48 |
| Wining shift pattern | Start at 9.400rpm (needle drop), 3.000rpm 2nd and NOS, rest deep good or early perfect shifts |
| Time | 6.941 |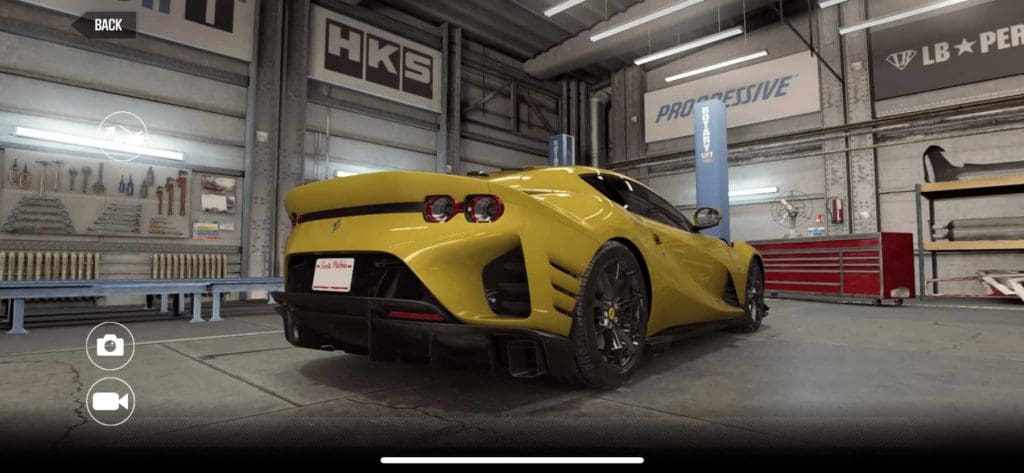 Ferrari 812 Competizione Season 153
| | |
| --- | --- |
| Ferrari 812 Competizione | |
| Tier | 5 |
| NOS | 188 / 4.0 |
| Transmission | 2.00 |
| Tires | 52 / 48 |
| Wining shift pattern | Start at 9.400rpm (needle drop), 3.000rpm 2nd and NOS, rest deep good or early perfect shifts |
| Time | 6.941 |