Master the Fast & Furious Drift Crew Event of Season 145 to secure the prize car, Top Secret Nissan Fairlady Z (Z33). It is not one of the fastest Cars in CSR2 Tier 4.
And if your resources are in a good shape, you can also win the Ford Mustang Fastback (FnF) if you successfully master the Drift Crew Evo Event.
I will be skipping the event for several reasons. Firstly, I would have to upgrade too many cars, and secondly, the rewards for the two events are not particularly exciting.
CSR2 Season 145, Fast & Furious Drift Crew Event – all Cars with tune and shift pattern
Slot 1 – eligible Cars are
| | |
| --- | --- |
| Nissan Silvia Spec S (S15) "Mona Lisa" (FnF) | |
| Tier | 5 |
| NOS | 77 / 12.0 |
| Transmission | 2.00 |
| Tires | 0 / 100 |
| Wining shift pattern | Perfect start (needle drop), immediately NOSs, 7700rpm 2nd, 7700rpm 3rd, 4th & 5th deep good shifts, 7800rpm 6th |
| Time | 7.859 |
| | |
| --- | --- |
| W-Motors Lykan HyperSport | |
| Tier | 5 |
| NOS | 448 / 5.5 |
| Transmission | 2.16 |
| Tires | 12 / 88 |
| Wining shift pattern | Perfect start, 6.000 rpm to 2nd than NOS at 4.500 rpm, rest perfect shifts |
| Time | 8.895 |
FnF DC Event Slot 2 – eligible Cars are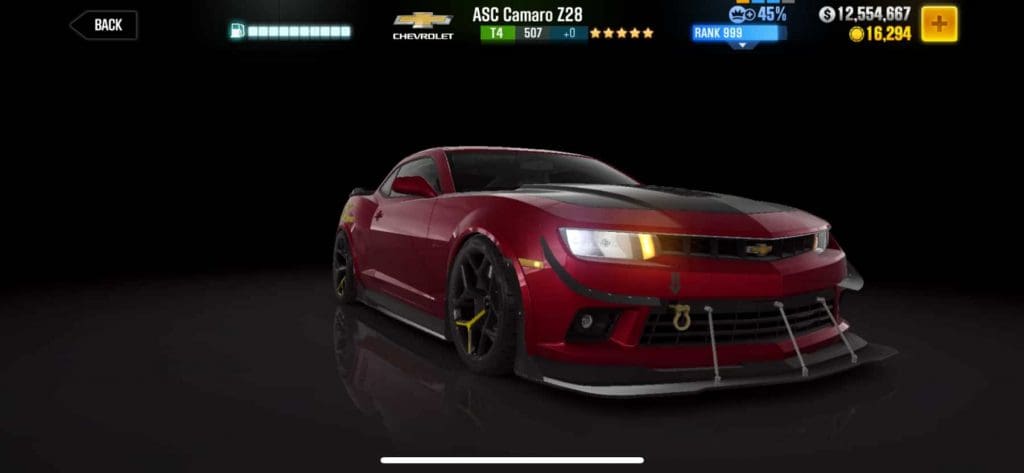 | | |
| --- | --- |
| ASC Chevrolet Camaro Z28 | |
| Tier | 4 |
| NOS | 252 / 4.2 |
| Transmission | 4.65 |
| Tires | 11 / 89 |
| Wining shift pattern | Perfect start, 10mph 2nd, 3000rpm 3rd, 3200rpm 4th, perfect 5th and NOS, rest perfect shifts |
| Time | 11.938 |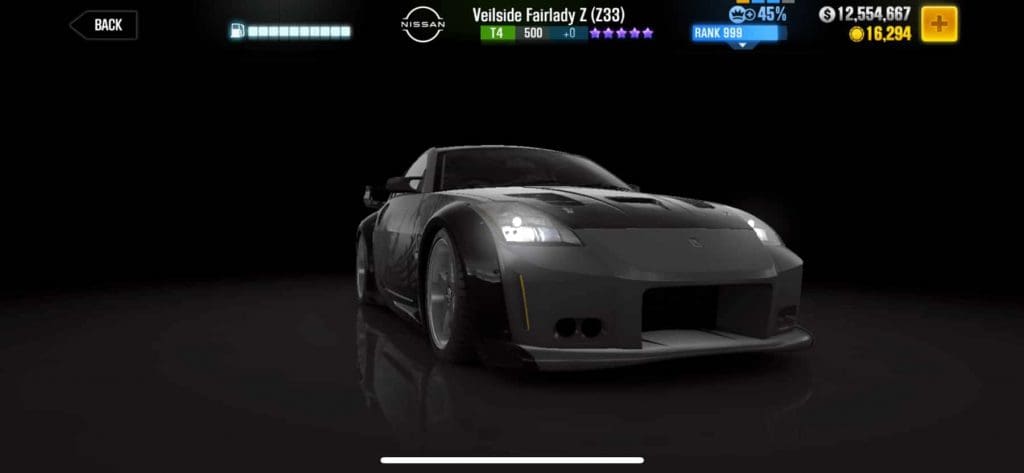 | | |
| --- | --- |
| Veilside Nissan Fairlady Z (Z33) (FnF) | |
| Tier | 4 |
| NOS | 248 / 4.9 |
| Transmission | 2.46 |
| Tires | 13 / 87 |
| Wining shift pattern | Perfect start, 27mph 2nd, perfect 3rd and NOS, rest early perfect shifts |
| Time | 9.962 |
Drift Crew FnF Event Slot 3-5 – eligible Cars are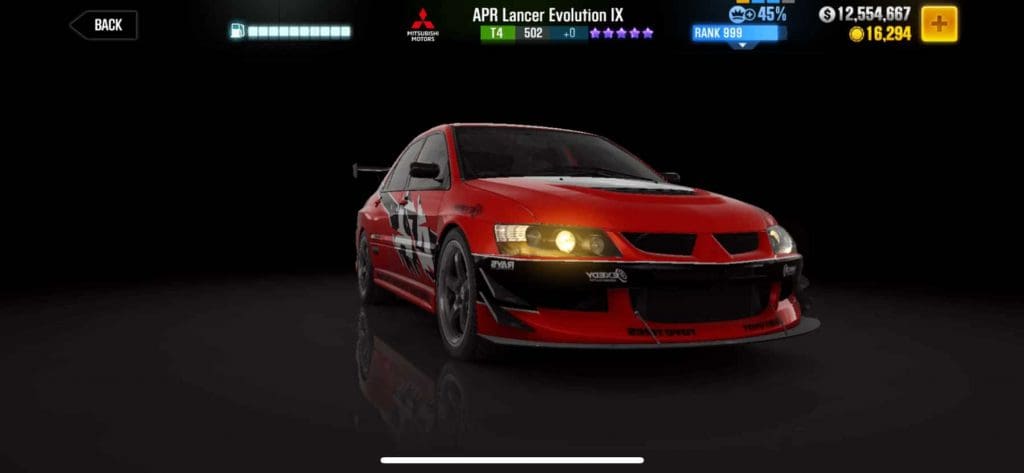 | | |
| --- | --- |
| APR Mitsubishi Lancer Evolution lX (FnF) | |
| Tier | 4 |
| NOS | 206 / 4.0 |
| Transmission | 2.67 |
| Tires | 0 / 100 |
| Wining shift pattern | Perfect start, 25mph 2nd, 3rd early perfect, then NOS, rest early perfect shifts |
| Time | 9.919 |
| | |
| --- | --- |
| Veilside "VSD1-GT" Mazda RX-8 (FnF) | |
| Tier | 4 |
| NOS | 188 / 4.0 |
| Transmission | 2.50 |
| Tires | 53 / 47 |
| Wining shift pattern | Start at 4.950rpm, immediately 2nd, 6.100 rpm 3rd and NOS, rest shifts at 9.000rpm |
| Time | 9.769 |
| | |
| --- | --- |
| Veilside Fortune Mazda RX-7 (FnF) | |
| Tier | 5 |
| NOS | 395 / 4.0 |
| Transmission | 2.00 |
| Tires | 31 / 69 |
| Wining shift pattern | Perfect start, 34mph 2nd, 3400rpm 3rd, 4th perfect shift and NOS, 7200-7300rpm 5th |
| Time | 7.621 |
Fast & Furious Drift Crew Event – Prize Car and only eligible Car for Fast & Furious Drift Crew Evo
| | |
| --- | --- |
| Top Secret Nissan Fairlady Z (Z33) (FnF) | |
| Tier | 4 |
| NOS | 248 / 4.9 |
| Transmission | 2.46 |
| Tires | 13 / 87 |
| Wining shift pattern | Perfect start, 27mph 2nd, perfect 3rd and NOS, rest perfect shifts |
| Time | 9.963 |
Drift Crew Evo Event – Prize Car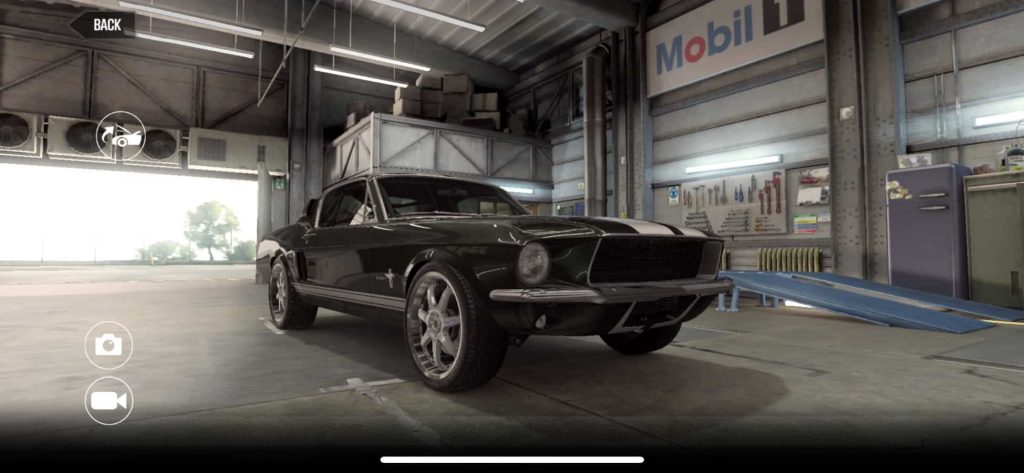 | | |
| --- | --- |
| Ford Mustang Fastback | |
| Tier | 5 |
| NOS | 93 / 16.8 |
| Transmission | 2.00 |
| Tires | 0 / 100 |
| Wining shift pattern | Start at 6.00rpm (needle drop), perfect 2nd and NOS, rest shift at 7.800rpm |
| Time | 7.603 |