The Lamborghini Countach LPI 800-4 is a CSR2 Italian Supercar Science Event Car from Season 143. The Lambo is one of the faster Cars in Tier 5. The LPI 800-4 is also the CSR2 Milestone Car of Season 170.
Lamborghini Countach LPI 800-4 Specifications
The real Lamborghini Countach LPI 800-4
31 years ago, the last Countach ever built left Lamborghini's factory halls. Around 2,000 examples of the wedge-shaped V12 icon have been built since 1974, after the angular newcomer succeeded the Miura. Now a further 112 vehicles have been added, although they have emancipated themselves quite clearly from the ancestor in terms of performance and technology.
The new edition of the Countach gets the hybrid powertrain of the Sian and accordingly distributes 814 hp to all four wheels. The 6.5-liter naturally aspirated V12 engine produces 780 horses, while 34 come from the electric motor integrated into the seven-speed transmission. Good for up to 355 km/h – 50 km/h faster than the most powerful version of the first Countach.
With a dry weight of 1,595 kilograms, the new Lamborghini Countach has a power-to-weight ratio of 1.95 kilograms per horsepower. This puts it slightly behind the competition from Maranello, which also has a hybrid super sports car in the form of the Ferrari SF90.
However, because the latter is 25 kilos lighter and 186 hp more powerful, each individual hp here only pushes 1.57 kilos. But you can see that for yourself: That's complaining at a high level. After all, with a sprint time of 2.8 seconds to 100 and 8.6 seconds to 200 km/h, the Countach LPI 800-4 certainly can't be accused of inertia.
More on the electrified Countach
The CSR2 Countach LPI 800-4
The 5 purple star Lamborghini can fit 135 Fusion parts. So far nothing special. The LPI 800-4 should run 6.931s. To sum up, the Countach LPI 800-4 is one of the faster cars in Tier 5.
| | |
| --- | --- |
| Italian Supercar Science | Season 143 |
Lamborghini Countach LPI 800-4 tune and shift pattern
From the Italian Supercar Science Event
| | |
| --- | --- |
| Lamborghini Countach LPI 800-4 | |
| Tier | 5 |
| NOS | 63 / 12.0 |
| Transmission | 2.00 |
| Tires | 0 / 100 |
| Wining shift pattern | Perfect start, 10mph 2nd, 4.800rpm 3rd and NOS, rest deep good or early perfect shifts |
| Time | 6.931 |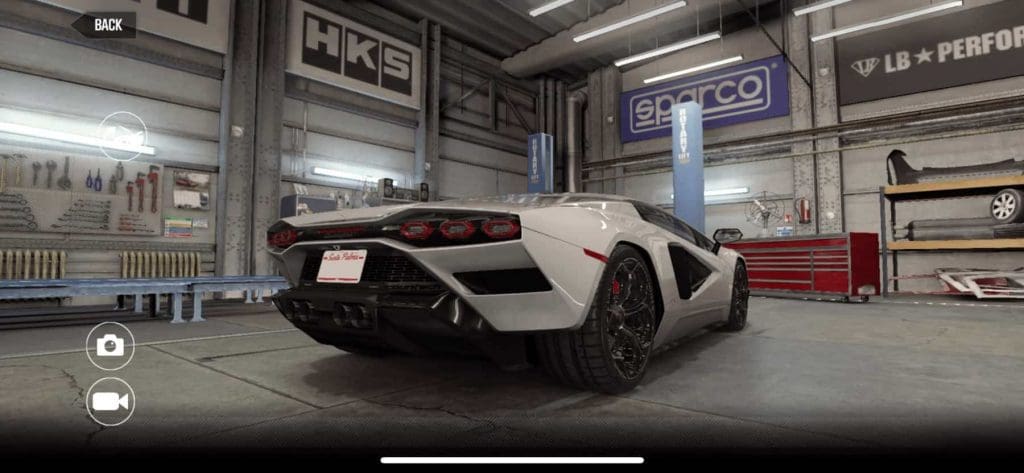 And the Milestone Lamborghini
| | |
| --- | --- |
| Lamborghini Countach LPI 800-4 | |
| Tier | 5 |
| NOS | 63 / 12.0 |
| Transmission | 2.00 |
| Tires | 0 / 100 |
| Wining shift pattern | Perfect start, 10mph 2nd, 4.900rpm 3rd and NOS, rest deep good or early perfect shifts |
| Time | 6.986 |
| | |
| --- | --- |
| Lamborghini Countach LPI 800-4 | |
| Tier | 5 |
| NOS | 63 / 12.0 |
| Transmission | 2.00 |
| Tires | 0 / 100 |
| Wining shift pattern | Perfect start, 10mph 2nd, 4.800rpm 3rd and NOS, rest deep good or early perfect shifts |
| Time | 6.931 |