Starting the game you get 130 gold as a gift so that you can buy your first car in CSR2. That is just enough money to choose one of the seven Tier 1 cars. All entry-level cars have similar performance data, confusing at first sight.
Your first car in CSR2 should be …
Most people would say: the VW Golf GTI. But not me. In the first days playing CSR2 every dollar counts and the Golf is a little bit more expensive than …
Here is the first tip, choose the Ford Fiesta ST and start to max it out.
Maxed out means, you need to buy all Upgrade (Stage) parts and put all necessary Fusion parts on your car.
The Fiesta can fit 35 stage upgrades and 24 fusion parts. To max it out you can buy it over and over from the dealership and strip it for fusion parts. The Fiesta is the cheapest car in CSR2 it costs only $28.500 or 120 Gold for instant delivery.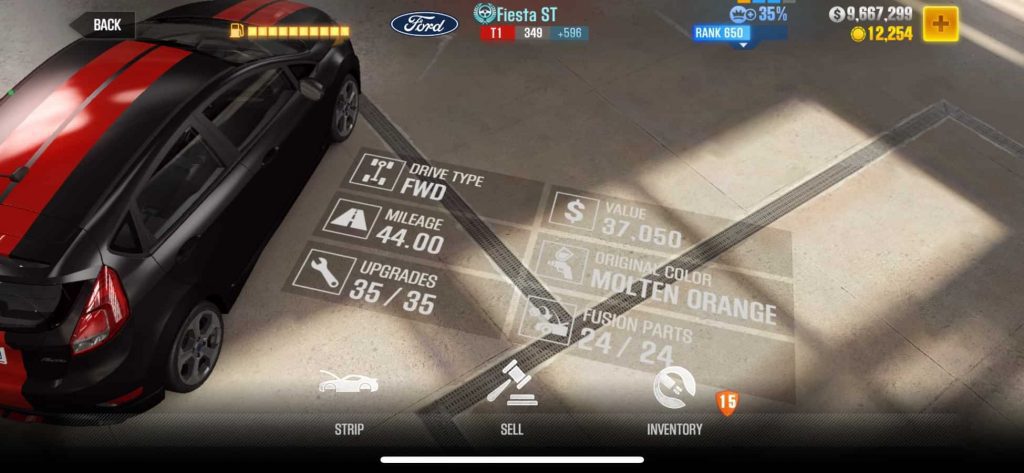 Best tuning for the Fiesta without a star is 203 – 3.7 | 3.05 | 20 – 80. The 1/2 mile time will be something at 11.9xx
If you are lucky enough you might win a yellow star Fiesta from a crate or something. Tuning for the 1 star Fiesta is NOS 204 / 3.9 , Transmission 3.05 and Tires 20 / 80. The wining shift pattern seems to be: Early perfect start, at 39mph perfect shift to 2nd and NOS, at 67mph perfect shift to 3rd, at 107mph perfect shift to 4th
You can go for the Golf as well. Tuning for the VW Golf GTI is NOS 205 / 3.9, Transmission 3.15 and Tires 21 / 79. The wining shift pattern seems to be: Perfect start, perfect shift to 2nd, NOS, perfect shift in 3rd, perfect shift in 4th