The Honda NSX-R is a tier 4 car in CSR2. With a time of 9.853s for the 1/2 mile it is one of the fastest Tier 4 cars. The Elite Honda with 5 yellow stars is even faster.
NSX-R Specifications
The real NSX-R
Between November 1992 and 1995, only in Japan was the NSX Type R additionally offered, a weight-reduced version with the engine of the NA1 version, somewhat firmer suspension and sporty interior. It is the first Japanese production vehicle built largely from aluminum and has both electronic steering assistance and electronic throttle control (drive-by-wire). Its V6 engine reaches speeds of up to 8000 rpm and has titanium connecting rods and spark plugs with platinum electrodes.
The NSX-R engine produces 274 hp at 7100 rpm and accelerates the Honda from 0 to 100 km/h in 5.9s. Its top speed is 270 km/h.
The first model version sold from August 1990 onwards had a 3.0-litre naturally aspirated V6 engine with four overhead camshafts installed transversely between the passenger compartment and the boot. The cylinder bank angle is 90 degrees, four valves are installed per cylinder. The NSX engine transmitted it's power via a dual disc clutch and a 5-speed manual gearbox. The 6-in-2 exhaust system contained two regulated catalytic converters. From the start, all models used a 4-channel Antilock Braking System (ABS), which can control and regulate each wheel individually. According to the factory specifications, it should provide more precise handling during emergency braking.
More about the NSX-R
The CSR2 Honda NSX-R
The Honda can fit 68 Fusion parts, so far nothing special. The best 1/2 mile time for the NSX-R is 9.853s.
The 5 yellow star Elite Honda makes the 1/2 mile in 9.466s.
In my opinion one of the best cars for live races. Why? The NSX-R is fast and extremely easy to drive. In my opinion the perfect combination of good qualities.
Honda NSX-R tune and shift pattern
| | |
| --- | --- |
| Honda NSX R Elite Lvl 0 | |
| Tier | 4 |
| NOS | 188 / 4.0 |
| Transmission | 2.54 |
| Tires | 0 / 100 |
| Wining shift pattern | Perfect start, immediately 2nd, 3.900rpm NOS, rest shifts at 9.000rpm |
| Time | 9.853 |
| | |
| --- | --- |
| Honda NSX R Elite Lvl 50 | |
| Tier | 4 |
| NOS | 188 / 4.3 |
| Transmission | 2.22 |
| Tires | 0 / 100 |
| Wining shift pattern | Perfect start (needle drop), 2.200rpm 2nd and NOS, late 3rd at 9.000rpm, late 4th at 9.000rpm, late good 5th at 8.200rpm |
| Time | 9.466 |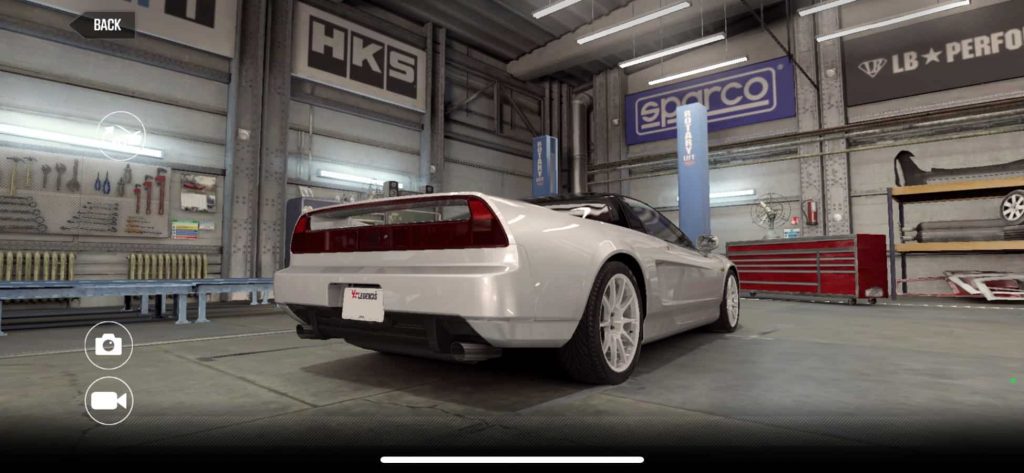 How do I get the Honda NSX-R?
You need to buy it from the dealership and afterwards restore it in the legends garage.
Can I use Stage 6 Parts from the Honda NSX?
No, unfortunately not. The Honda NSX-R is an independent car in CSR2 and needs its own Stage 6 parts.
How do I make my Honda Elite?
You need to collect Elite tokens and use them to upgrade and customize your car.