The Bentley Continental GT Convertible is the CSR2 Milestone car of season 94. There are two versions of the GT Convertible, the normal 5 star version and the 5 purple star version.
Bentley Continental GT Convertible Specs
Real life Bentley
Bentley presented the new Continental GTC at the LA Auto Show in November 2018. The W12 engine is a further development of the Bentayga engine.
Updated versions of the existing V-8 and W-12 engines that powered the previous generation Continental GT offer plenty of power. Tests have shown that the V-8, which delivers 542 hp, can accelerate the coupe to 60 km/h in 3.4 seconds. The more expensive W-12 engine delivers 626 hp and can accelerate a coupe to 60 mph in 3.3 seconds. Both use an eight-speed dual-clutch automatic transmission that enables superfast but smooth shifting. Customers can order the coupe or convertible with both engines. And all Continental GTs are equipped with four-wheel drive as standard.
On the occasion of the 100th anniversary of the Bentley brand the special model Number 1 Edition, limited to 100 units, was presented in June 2019. The special model is a homage to the Blower Bentley from 1929.
CSR2 GTC
The 5 yellow star GTC can fit 128 Fusion parts, so far noting special. The yellow star GTC should run 8.542s. Obviously not one of the fastest cars in CSR2.
Bentley Continental GT Convertible tunes and shifts
| | |
| --- | --- |
| Bentley Continental GT Convertible | |
| Tier | 5 |
| NOS | 205 / 5.1 |
| Transmission | 2.78 |
| Tires | 0 / 100 |
| Wining shift pattern | Perfect start, 28mph 2nd, goody 3rd and NOS, good 4th, good 5th, 6th and perfect 7th |
| Time | 8.542 |
More Bentleys in CSR2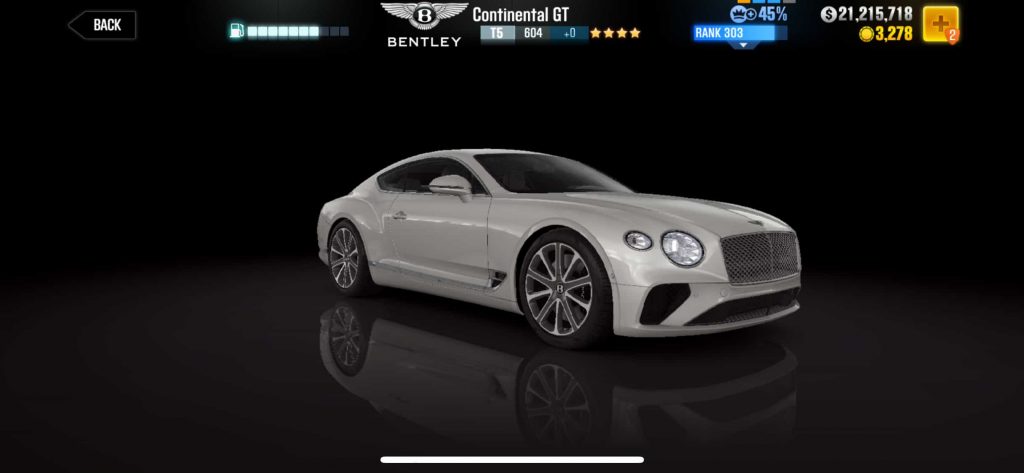 Bentley Continental GT
Best tuning for the GT is NOS 439 / 5.7, Transmission 3.17 and Tires 5 / 95.