The Audi R8 Green Hell is the CSR2 Green Hell Event Prize Car of Season 175.
The Audi R8 Green Hell is not one of the faster Cars in Tier 5.
Audi R8 Green Hell Specifications
The real Audi R8 Green Hell
The Audi R8 is one of the most iconic supercars on the market today. Its sleek design, impressive performance, and advanced technology make it a favorite among car enthusiasts and casual drivers alike. But the latest addition to the R8 lineup is something truly special: the Audi R8 Green Hell Edition.
Named after the notorious Nürburgring racetrack, also known as the "Green Hell," this limited edition version of the R8 is a tribute to Audi's successful racing history. The Green Hell Edition features a striking green exterior color that is exclusive to this model, along with a host of performance upgrades and unique design elements that set it apart from other R8 models.
Under the hood, the Green Hell Edition boasts a powerful 5.2-liter V10 engine that produces 602 horsepower and 413 lb-ft of torque. This engine is paired with a seven-speed S tronic transmission and Audi's legendary quattro all-wheel drive system, which provides exceptional grip and handling on even the most challenging roads.
But the Green Hell Edition isn't just about raw power. It also features a range of advanced performance technologies, including Audi's magnetic ride suspension system, which uses electromagnetic dampers to adjust the car's handling and ride quality on the fly. This system can adjust the suspension settings up to 1000 times per second, ensuring that the car always stays balanced and responsive.
The Green Hell Edition also features carbon-ceramic brakes, which provide exceptional stopping power even at high speeds. These brakes are lighter and more durable than traditional steel brakes, and they are less prone to fade under heavy use. The result is a car that feels confident and composed even under the most extreme driving conditions.
But what really sets the Green Hell Edition apart is its unique design elements. The exterior of the car features a striking green paint job that is accented by black and red trim, along with a range of carbon fiber accents that add to its aggressive look. The car also features a set of 20-inch milled wheels that are finished in matte black, along with a set of sporty Michelin Pilot Sport Cup 2 tires that provide exceptional grip and handling.
Inside the car, the Green Hell Edition features a range of luxury and performance-focused amenities. The seats are upholstered in Alcantara and leather, with green stitching and piping that matches the car's exterior. The steering wheel is wrapped in Alcantara and features a red center marker, while the shift paddles are made from carbon fiber.
The car also features a range of advanced technologies, including Audi's Virtual Cockpit system, which replaces traditional gauges with a customizable digital display. This system can display a range of information, including speed, rpm, and even lap times, and it can be configured to show different layouts depending on the driver's preferences.
But perhaps the most exciting feature of the Green Hell Edition is its racing-inspired soundtrack. The car features a sport exhaust system that has been tuned to produce a deep, throaty roar that is sure to turn heads wherever you go. This exhaust system also features a "sport" mode that opens up the exhaust valves even further, providing an even more aggressive sound.
Overall, the Audi R8 Green Hell Edition is an exceptional car that combines breathtaking performance with unique design and advanced technology. It is a true tribute to Audi's racing heritage, and it is sure to appeal to car enthusiasts and collectors alike.
Of course, with a price tag of over $200,000, the Green Hell Edition is not a car that will be accessible to everyone. But for those who can afford it, it represents the ultimate expression of Audi's commitment to engineering excellence and driving pleasure. Whether you plan to take it on the track or simply enjoy it on the open road, the Audi R8 Green Hell Edition
More about the Green Hell Edition / Audi official
The CSR2 Audi R8 Green Hell
The 5 purple star Audi can fit 135 Fusion parts. So far nothing special. The R8 should run 8.198s. To sum up, the R8 is not one of the faster cars in Tier 5.
Audi R8 Green Hell tune and shift pattern
| | |
| --- | --- |
| Audi R8 green hell | |
| Tier | 5 |
| NOS | 473 / 5.6 |
| Transmission | 2.91 |
| Tires | 0 / 100 |
| Wining shift pattern | Perfect start, 25mph into 2nd, 3rd deep good, deep good 4th and NOS, 5th and 6th early perfect, 7th as late as possible |
| Time | 8.198 |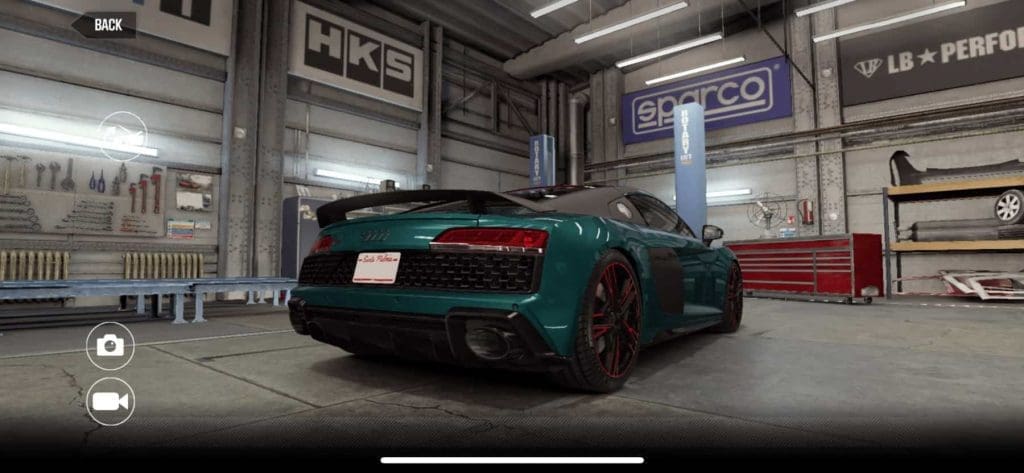 Find more tunes and shift patterns