The Volkswagen Jetta is the Prize Car of the 2020 CSR2 Fast and Furious 1 Event. The purple starred Jetta is unfortunately not one of the fastest Tier 4 cars.
Volkswagen Jetta specifications
The real Jetta
The third generation of the VW Jetta III came onto the market in 1992 under the name VW Vento as the successor to the VW Jetta II. In the USA, the Vento continued to be marketed under the name VW Jetta. The VW Vento was only available as a four-door notchback sedan. The Jetta III was offered with the following engines: 1.6 – 2.8 litre petrol engines which produced between 75 and 174 hp and 1.9 litre diesel engines which produced between 64 – 110 hp. The last VW Jetta III rolled off the production line in 1998. Obviously one of the most boring cars ever.
The Jetta III became famous through the film "The Fast and Furious".
A 1995 Volkswagen Jetta appears in the first film. This car is driven by Jesse although it is mention that his imprisoned father owns the car. It is first seen when Jesse drives up to Dominic's store along with Leon, Letty and Vince. The car does not participate in street races although it did participate in Race Wars when Jesse uses the pink slip to the vehicle to race Johnny Tran's Honda S2000. Brian warns Jesse not to race Tran saying that the car has a $100,000 worth of upgrades.
The car is seen again when Jesse arrives at Dominic's house to plead for his help. Suddenly Tran and his cousin Lance perform a drive-by shooting on the house during which the car is shot up with Jesse being killed in the process. The car was possibly impounded because it is never seen again in the sequels. The Jetta has a Wings West bodykit + rear spoiler and KONIG rims.
More about the Jetta
The CSR2 Jetta
The yellow star VW can fit 91 Fusion parts. So far nothing special. The Jetta should run 10.46210.491s. To sum up, the VW occupies a place in the T4 midfield.
Volkswagen Jetta tune and shift pattern
| | |
| --- | --- |
| Volkswagen Jetta | |
| Tier | 4 |
| NOS | 210 / 4.0 |
| Transmission | 2.00 |
| Tires | 0 / 100 |
| Wining shift pattern | Perfect start, at 3.000rpm 2nd and NOS, rest perfect shifts |
| Time | 10.491s |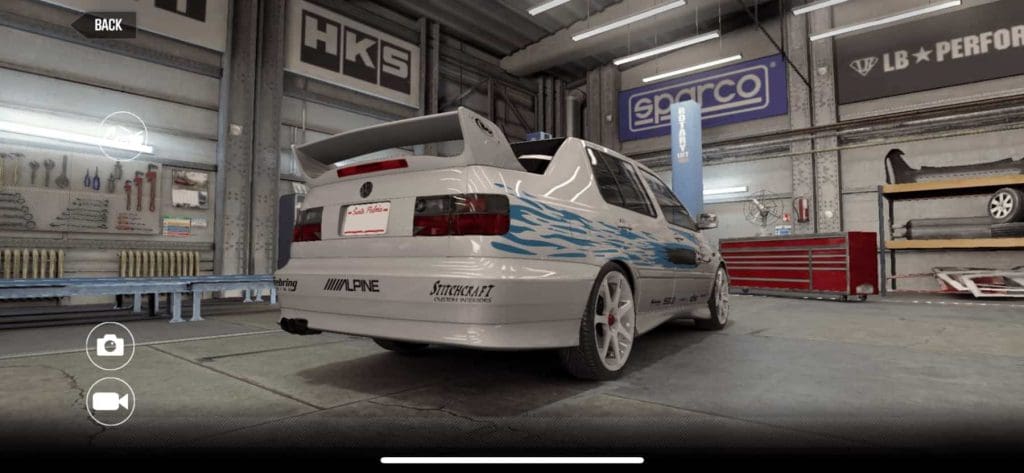 Find more tunes and shift patterns